Things have moved on a lot in my life since I was last blogging regularly.
I have had just about the toughest year of my life mostly due to my own sister who decided to get involved with an absolute scumbag. This utter lowlife never liked me and when my sister packed her stuff and did a flit with this scumbag without paying me back the £100 she owed me, I text her to ask that she pay me back as I could not afford to write that amount of money off.
This resulted in her wonderful boyfriend starting up a six month campaign threatening
that he knew where I kept my horse and where I walked the dogs so he'd be after me
either with his sister to do me over or a can of petrol and a lighter.
His e
xact words were
"you think you're so brave? Watch out because I know where you wal
k your dog and where you ride your horse and by the time I've finished with you, you'll barely be able to breathe, let alone walk and as for your face, nobody will want you again"
.
My sister's words to this were
"Yeah? What do you want me to do about it?"
.
I've written her out of my life and I won't be threatened like that. Sadly, I did have to get the police involved as there is only so much verbal abuse I will take and threats like that
are actually quite scary when you know that the person making them
has been had up in court for GBH and putting a man in hospital.
He threatened to let my horse out on to the
main road or slash her and as he knew the house and the dogs, to break in and cause untold damage.
I haven't heard anything from them for a good few months now and I hope it stays that way. I've sacrificed my relationship with my sister but she has changed and I don't want those sort of people in my life. If and when she sees the light with him, I will be civil to her but I will never again trust her or have too much to do with her.
I have moved in to a lovely new flat and found someone who act
ually treats me like a Princess. He calls when he says he will, is here when he says he will be and moves heaven and earth to see me as often as he can even though work and shiftwor
k dictates that it's
sometimes not that easy. For somebody to travel 300 miles to see me, spend 24 hours with me and travel 300 miles back is dedication in my book. He makes me happy and I
have a sneaking suspicion this one is for keeps. Most of the old insecurities have gone and he makes me a better person.
My brother who has had various problems with drug addiction and other issues has finally been diagnosed with something. Apparently, he is Bipolar. He has been receiving counselling and is a much better and nicer person than I have e
ver known him to be although he still has his difficult episodes.
I have gained another pet in the form of a house rabbit who is absolutel
y adorable. She is cheeky, trouble but very affectionate. According to my boyfriend, she reminds him of me!
The Red Setter has gone from a gangly and soppy pup to this: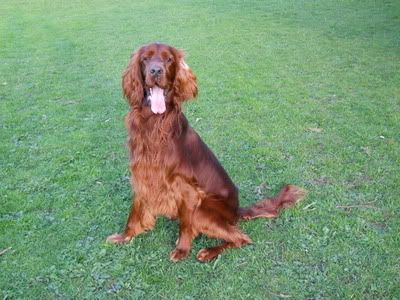 This is one of my very favourite pictures of him because it shows exactly the sort of dog he is in his face :o). I adore him and he knows it!
And this is my lovely little rabbit :o).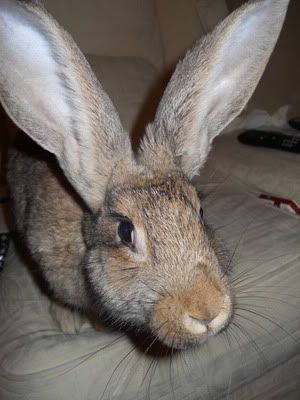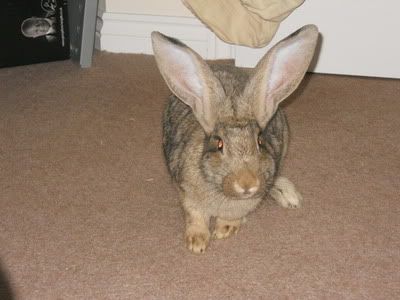 I love this picture of her as it shows her inquisitve and cheeky little character :o)