A friend and I went to Gatcombe yesterday for the Hunter Trials that were on there. It is known as 'Little Gatcombe' as it attracts all the big names but is much less busy and crowded than the main Gatcombe three day event. The weather was wonderful, sunny but with a slight breeze and lovely blue skies.
I am rather jealous of my friend as he managed to get some fab videos on his video camera. Certainly better than my photographs although I did get some beauties which I am pleased with. It did help that so many of the horses were so photogenic. We were lucky enough to be able to take in some great views and get an idea of the jumps on the cross country course because it is so much quieter than the official Gatcombe 3 day event that we got to walk round the cross country course :o).
I was in charge of sorting the food out and apparently, I am the Grand Master (Mistress?) at doing picnics!
My friend was shocked at how much I'd managed to pack and his words on opening were
"Nothing else to say except you are brilliant. Just bloody brilliant!"
.
It's a shame he then had to go and ruin by offering to get me a coffee and coming back with what I suspected was gnat's pee weak and pale coffee. It was only when I went to take a sip that an unfamiliar but disgusting smell hit my nostrils. My git of a friend decided he'd try and trick me in to drinking his tea and quietly videoing the reaction!
Luckily I didn't take a sip but that didn't stop him laughing at my disgust that he'd even think of doing that to me. In case you are in any doubt, I cannot stand tea. It is a vile thing to drink and my friend cannot understand my violent hate of the stuff. He would have understood if I'd been stupid enough to take a mouthful because it would have ended up being spat all over his shoes because I certainly would not have swallowed it. Disgusting stuff!
Anyway, here are a small selection of the 100-odd photographs I took, far more than I thought I'd taken! My estimate was about 30 photographs and it was only when I got home and loaded them on to my laptop that I saw there were 136 of them!
I was metres away from this lovely horse and rider when they came galloping past. They were a sight to behold.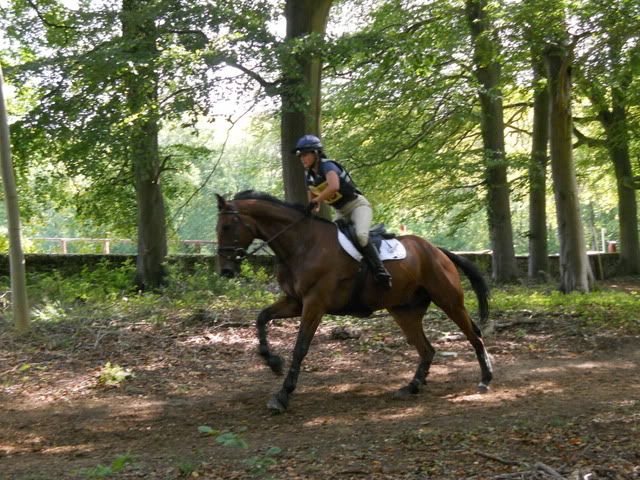 I absolutely love this photograph because although the sun is shining on horse and rider, the moody sky in the background just adds that something extra to the photograph.
This grey was lovely and the juming style he had was absolutely fluid as you can see from this photograph.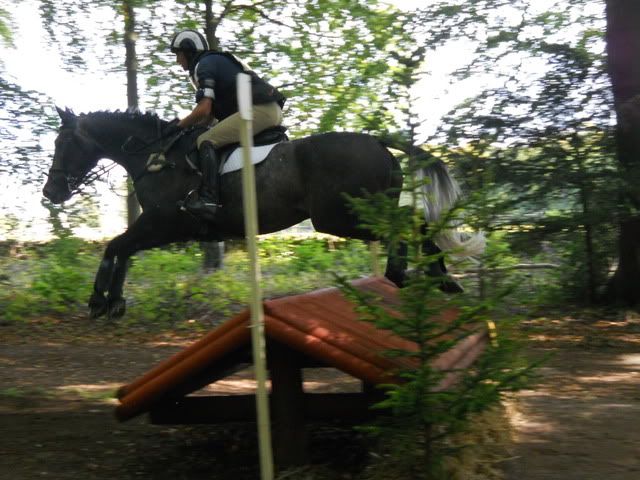 This photograph is one of the best I took I think. I love how by sheer luck, I managed to capture them both over the jump at the exact perfect second :o).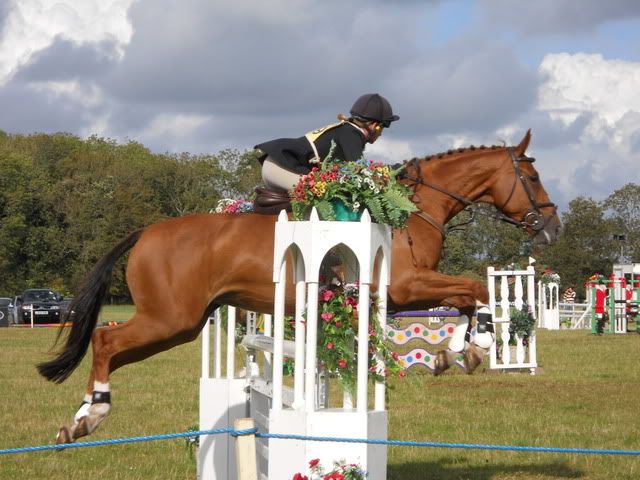 All in all it was a fantastic day but tiring. After being up at 6.30am and out of the door by 9am, I then didn't get back until almost 8pm and had been walking around a fair bit during the day. Luckily my friend has an estate car so managed to park by the showjumping ring so we could sit in the boot and watch the showjumping from the ringside in comfort.