I have a lot of corset love going on lately. It was my birthday not long ago and I was bought a lovely bodice/corset from Madame V. It's not suitable for outerwear due to the cups and the fact it clearly is underwear but it looks great underneath tops that are slightly sheer or underneath clothing that demands a smooth line.
This is the one that I was bought: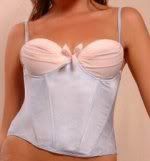 Back view:
I have the matching knickers to it and it is wonderfully girly and feminine. It's also really comfortable to wear and just looks very girly.
I counted my corsets the other day and have worked out that I have six steel boned ones. I will wear plastic boned ones but they're really only corset tops and don't give anywhere near the shape and control that proper steel bones will. I have my green steel boned corset that I blogged about last month, and these ones shown below:
My black one: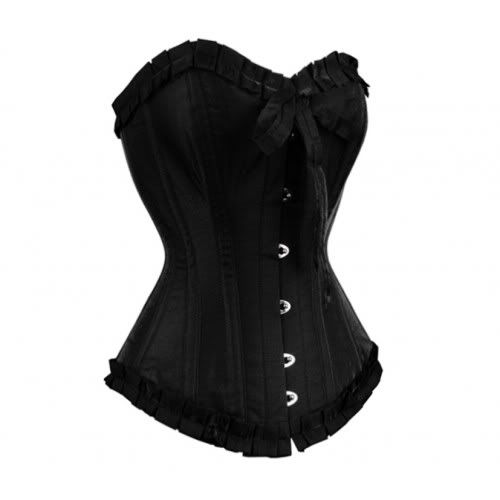 I love this one as it is short in the body so isn't too long for me when I sit down and it gives amazing shape and support. It's a fair weight as it is completely steel boned and lined with coutil for strength. It's actually more a tight-lacing corset but I'm not in to that as it is fairly uncomfortable.
My green one which is the same as the above but less shiny than this one. It's exactly the same style but a deep bottle green that is more like a taffeta material.
This is my purple one. Well I say it's mine but my one has less lace than this and is a slightly deeper purple. It also doesn't have the bows but is just edged with lace as a trim.
I also have this burgundy one which is fab as the bustline looks modest but puts everything where it should be with no fear of anything popping out!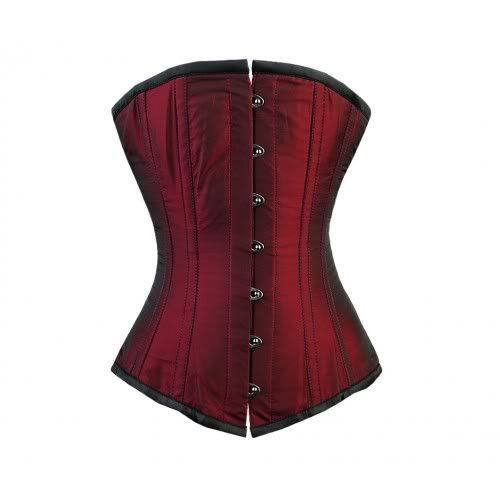 And finally I have this cream one which looks very much like proper underwear but I have worn it out. It looks very good with a gold matte sequin bolero I have because it looks more 'outerwear' then and looks quite cute and sweet.
I adore my corsets. They are kept rolled up neatly in their own drawer and woe betide anyone who tries them on. Steel boned corsets mould to the wearer so it is not wise to loan them out as the bones will then be pushed in to all sorts of shapes.
Plus they cost me too much to risk them being destroyed or spoiled by careless people!
Now for my wishlist..... I genuinely feel these beautiful specimens would enrich my life and complete it :-D.
Purple velvet corset: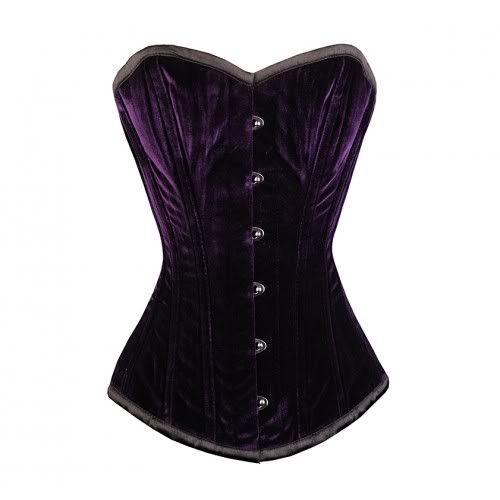 Midnight blue taffeta corset:
Burgundy Lalique corset. Stunning but almost £200 worth of corset. I will need to save very very hard indeed!
This Burleska corset I'm saving hard for. It is £90 but I feel it would be worth it just because it looks so lovely. I love the quirkiness of the bows on the side :o). The fit is appalling on the model but my green one above is a Burleska corset and they fit perfectly providing the right size is bought.
I usually wear my corsets with dark skinny jeans, lace up Victorian style boots and a velvet jacket or tailcoat but this skirt I have fallen in love with. It is very expensive at nearly £100 but it would be relatively simple for me to do the ribbon and and lacing myself as all it is is ribbon and D rings on the rear of the skirt. It would be nice to wear with a corset to smart occasions or celebrations.
On a slightly different note, I have recently fallen in love with La Senza and their 'Georgia' range. The bra is fantastic! Honestly, it is the most comfortable bra I've ever worn to the point I rarely wear any others now. It is comfortable but should actually be marketed as a boob job in a bra. My boobs are not massive but neither are they tiny (they used to be but it looks like I am one of life's late developers!) so this bra is my saviour. I am almost embarrassed to say I have it in 8 different colours.... But in my defence, the scarlet one I originally bought has been worn so much that it is now falling apart :o(. The silk on the cups is coming away from the actual cup so it's no longer wearable.
I highly recommend these bras to any ladies reading this and men too. Buy a set for your wife or girlfriend and they will love you forever :-D. It doesn't look much in the picture but seriously, it is a perfect bra.
My name is GND and I am a corset and lingerie addict. And proud to be so! :-D.
The only downside I can think of when wearing corsets is they are a sod to lace up on my own. If I was rich I'd employ somebody just to lace up my corsets which means I would no longer have to hook the laces over a door handle and slowly walk forward until the tension is right, then reach round and unhook them before tying them. The effort is well worth it but it is a pain in the backside.
I want to win the lottery, buy lots of corsets and employ my own corset lacer :-D.