I gave in and bought the top hat and I am so glad I did because it looks fab with my tailcoat and corsets. I love it lots :o).
My sister was up from Cornwall last week and stayed the week at our parents and as we are both party animals it made sense that we'd plan a big night out so that is exactly what we did. I was in two minds whether to go all out and wear what I wanted to or whether to just wear something 'normal' but after trying it all on and my sister saying it did indeed look amazing I decided to wear my top hat, tails, emerald corset, skinny dark indigo jeans and lace-up Victorian boots. As I've said before, it is an absolute sod to lace myself in to my corsets as I like them quite tight and it's impossible to get them as tight as I like them on my own so my sister had a step-by-step tutorial on how to lace a corset correctly and bless her, she did it!
We had a great night and a looooong night of drinks and dancing and general banter. I had people come up to me and either be genuinely interested in what a real corset feels like to people coming up and saying it was nice to see a girl with some imagination and and a sense of unique style. A couple of girls gave me incredibly bitchy looks for absolutely no reason at all which to be honest, didn't bother me but did make me think they must be more than a bit strange.
One guy I ended up bumping in to three or four times over the night and his comments ranged from "Love, you look bloody fantastic." to "Can I have you for Christmas please?" which made me laugh a lot. We have Street Pastors here and one man came up to me and said "All I'm going to say is that is one amazing outfit and that hat looks fantastic on you". Each time he passed me after that it was "Still a great outfit and still a fantastic hat girl." which was nice to hear really :o).
One policeman stood outside one of the clubs also passed comment and said "Well I for one think you've got a much nicer hat than I have and I'm sure yours looks better on you than mine looks on me!" which also made me laugh seeing as the helmets constables wear are just funny (sorry but they are! :-D)
So if any of you reading this were out on the town last week and saw a short girl walking around looking like she'd stumbled out of the set of Oliver Twist then that girl would have been me and damn good it felt too! I didn't feel odd or uncomfortable wearing it but a sense of freedom at not being the same identikit blonde/brunette/redhead woman in the same 'must-have' dress and heels. It was nice to stand out for the right reasons.
My sister took a few photos over the course of th evening and this is one of them (blurred out obviously!). I actually quite like the original which is unheard of for me as I hate photos of myself with a passion.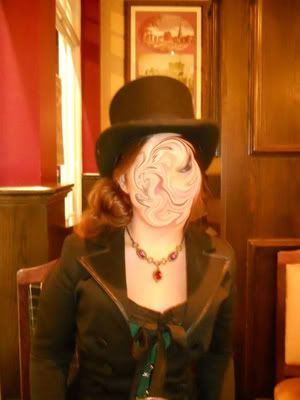 This is the first and probably the last photo of me that will appear on this blog. Still, it only took almost four years!